News
How to Play
Products
Card List
Organized Play
Where to Buy
Featured Card: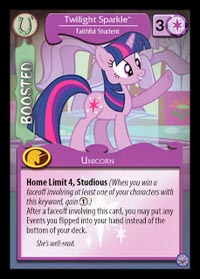 © Enterplay, Hasbro, All Rights Reserved.
Contact email can be found at the
bottom of the 'Where to Buy' page.

Card Translations


Spread Your Wings



Card No.:
95
Rarity:
Common
Color:
None
Points:
0
Type:
Event
Power:
4
Cost:
1
Requirement:
None
Keywords:
None

Card Text
Main Phase: Choose a Blue or Pink character. That character gets +1 Blue and +1 Pink until the end of the phase.
Flavor Text
Challenging Equestria's best flyer and her star pupil to a sister race is risky business.
---