News
How to Play
Products
Card List
Organized Play
Where to Buy
Featured Card: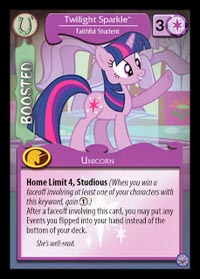 © Enterplay, Hasbro, All Rights Reserved.
Contact email can be found at the
bottom of the 'Where to Buy' page.

Card Translations


Lilac Links™ Superstitious



Card No.:
88 (Foil #29)
Rarity:
Rare
Color:
Yellow
Points:
0
Type:
Friend
Power:
1
Cost:
2
Requirement:
1
Keywords:
Earth Pony

Card Text
Problem Faceoff: Exhaust this card to choose a Friend with a Resource on it involved in the faceoff. That Friend gets -5 power until the end of the faceoff.
Flavor Text
"Oh my goodness, what are you doing?! Didn't you know that wearing orange on a Tuesday is bad luck!"
---