News
How to Play
Products
Card List
Organized Play
Where to Buy
Featured Card: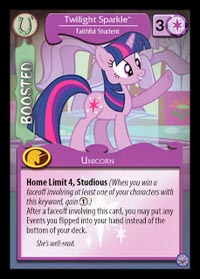 © Enterplay, Hasbro, All Rights Reserved.
Contact email can be found at the
bottom of the 'Where to Buy' page.

Card Translations


Red Gala™ Favorite Cousin



Card No.:
33
Rarity:
Common
Color:
Orange
Points:
0
Type:
Friend
Power:
2
Cost:
2
Requirement:
None
Keywords:
Earth Pony

Card Text
None
Flavor Text
Everypony loves when Red Gala comes to help out at the farm, since she never fails to bring along a tasty treat or two.
---