News
How to Play
Products
Card List
Organized Play
Where to Buy
Featured Card: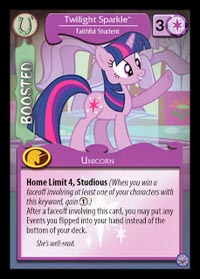 © Enterplay, Hasbro, All Rights Reserved.
Contact email can be found at the
bottom of the 'Where to Buy' page.

Card Translations


Flitter™ Ribbion Wielder



Card No.:
42
Rarity:
Common
Color:
Pink
Points:
0
Type:
Friend
Power:
1
Cost:
1
Requirement:
None
Keywords:
Pegasus

Card Text
While involved in a Troublemaker faceoff, this card gets +1 power.
Flavor Text
Don't let the cute bow fool you: when push comes to shove, this fun-loving mare stands up for her friends.
---