News
How to Play
Products
Card List
Organized Play
Where to Buy
Featured Card: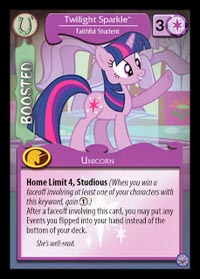 © Enterplay, Hasbro, All Rights Reserved.
Contact email can be found at the
bottom of the 'Where to Buy' page.

Buying the My Little Pony CCG


Heart of the Cards does not sell the My Little Pony CCG directly, we ask that you purchase through our approved stores. Stores have the freedom to sell in-store and online, and may have special deals and promotional offers - check them out!

List of top-tier participating stores that order directly from us:





Hammergirl Anime
Rochester, NY
In-store sales + Online sales





Availability
Some sets, particularly older ones, are not immediately available from our retailers. These sets are waiting for a reprint for shipment to America, so stay tuned for a restock really soon!


Want to get your company listed on here?
Contact us at
with the Subject line "MLP CCG Sales" to start selling cards today!