Game and Site Launch!


Dec 13 2013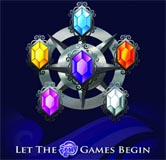 Welcome to the official launch of the

Heart of the Cards My Little Pony CCG Site!

Card lists, Organized Play finder, Rules clarifications, previews, news, and more, all in one place! We'll have lots more to show in the days ahead, with everything from tutorials to strategy discussion, and all the news that's fit to print about the release of the My Little Pony CCG!

We'll be filling out the card list throughout the day - tweet us pics of cards we don't have yet! We'll post strategy articles throughout the launch day as well!

Special thanks to the folks at Hammergirl Anime who helped make this possible: K, Jax+Sarah, 11, Smash, Greed, Dustin, and PONYCRUNCHER.

Stay tuned for lots more today!