News
How to Play
Products
Card List
Organized Play
Where to Buy
Featured Card: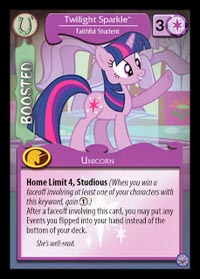 © Enterplay, Hasbro, All Rights Reserved.
Contact email can be found at the
bottom of the 'Where to Buy' page.

Card Translations


Whoa There Nelly!



Card No.:
128
Rarity:
Rare
Color:
Orange
Points:
0
Type:
Event
Power:
5
Cost:
0
Requirement:
3
Keywords:
Gotcha

Card Text
Reaction: Play when one of your Friends has been dismissed. Put it into your hand.
Flavor Text
Applejack pulls her friends' tails out of danger so often she hardly needs to floss anymore.
---