News
How to Play
Products
Card List
Organized Play
Where to Buy
Featured Card: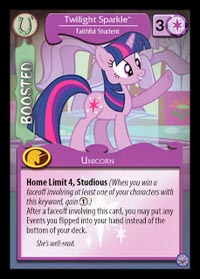 © Enterplay, Hasbro, All Rights Reserved.
Contact email can be found at the
bottom of the 'Where to Buy' page.

Card Translations


Fluttershy™ Beastmaster



Card No.:
6 (Foil #6)
Rarity:
Fixed
Color:
Yellow
Points:
0
Type:
Mane
Power:
1 / 3
Cost:
0
Requirement:
None
Keywords:
Pegasus

Card Text
Home Limit 3
When you confront this card's Problem, if you have a Critter Friend at that Problem, turn this card over.
-- BOOSTED: --
Home Limit 5, Caretaker
At the start of a faceoff involving this card, you may move a Critter Friend to this card's Problem.
Flavor Text
Fluttershy is the favorite pony of all critters in Ponyville.
-- BOOSTED: --
She can communicate with them on a very special level.
---