News
How to Play
Products
Card List
Organized Play
Where to Buy
Featured Card: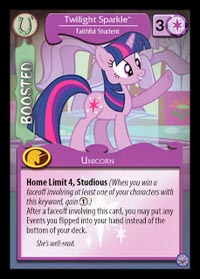 © Enterplay, Hasbro, All Rights Reserved.
Contact email can be found at the
bottom of the 'Where to Buy' page.

Card Translations


Ponynapped!



Card No.:
193
Rarity:
Uncommon
Color:
White
Points:
3
Type:
Problem
Power:
0
Confront Req. 1:
4
Req. 1 Color:
White
Confront Req. 2:
3
Req. 2 Color:
NotWhite
Opponent Confront Req.:
8

Card Text
When a player confronts this Problem, they frighten one of their Friends at this Problem.
Flavor Text
For ponies who find digging holes and pulling minecarts relaxing, then a Diamond Dog's dungeon is the perfect vacation destination.
---