News
How to Play
Products
Card List
Organized Play
Where to Buy
Featured Card: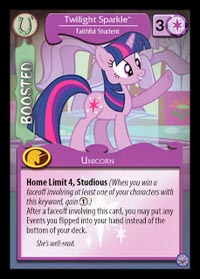 © Enterplay, Hasbro, All Rights Reserved.
Contact email can be found at the
bottom of the 'Where to Buy' page.

Card Translations


Sweet Apple Acres



Card No.:
145
Rarity:
Rare
Color:
Orange
Points:
0
Type:
Resource
Power:
3
Cost:
2
Requirement:
4
Keywords:
Location

Card Text
Play to your home.

Main Phase: Exhaust this card and pay (1) to force your opponent to choose and discard a card.
Flavor Text
The Apple family works long, hard hours in the fields here, but nopony can deny that the fruits of their labor are worth it.
---