News
How to Play
Products
Card List
Organized Play
Where to Buy
Featured Card: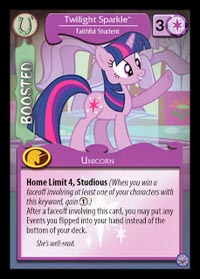 © Enterplay, Hasbro, All Rights Reserved.
Contact email can be found at the
bottom of the 'Where to Buy' page.

Card Translations


Sea Swirl™ Porpoiseful



Card No.:
93
Rarity:
Rare
Color:
Yellow
Points:
0
Type:
Friend
Power:
2
Cost:
3
Requirement:
1
Keywords:
Unicorn

Card Text
Main Phase: Exhaust this card at a Problem to move up to 3 of your Critter Friends to that Problem.
Flavor Text
Sea Swirl loves living in Ponyville, but she still takes regular train rides to go swim in the ocean whenever she can take a couple days to herself.
---