News
How to Play
Products
Card List
Organized Play
Where to Buy
Featured Card: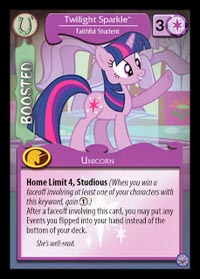 © Enterplay, Hasbro, All Rights Reserved.
Contact email can be found at the
bottom of the 'Where to Buy' page.

Card Translations


Cloudchaser™ Flexible Flier



Card No.:
11
Rarity:
Rare
Color:
Blue
Points:
0
Type:
Friend
Power:
1
Cost:
2
Requirement:
None
Keywords:
Pegasus

Card Text
Main Phase: Exhaust this card to reduce by (1) the cost of the next Friend you play this turn.
Flavor Text
"Clouds are nice and all, but why didn't my parents name me something cool, like Stormwalker? Now THAT'S a name."
---