News
How to Play
Products
Card List
Organized Play
Where to Buy
Featured Card: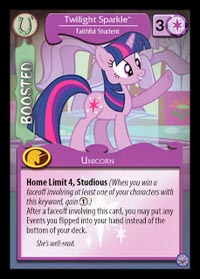 © Enterplay, Hasbro, All Rights Reserved.
Contact email can be found at the
bottom of the 'Where to Buy' page.

Card Translations


Raze This Barn



Card No.:
189
Rarity:
Uncommon
Color:
Orange
Points:
3
Type:
Problem
Power:
0
Confront Req. 1:
4
Req. 1 Color:
Orange
Confront Req. 2:
4
Req. 2 Color:
NotOrange
Opponent Confront Req.:
8

Card Text
Orange Friends here cannot be dismissed.
Flavor Text
All it takes is one little runaway wagon to upset the applecart.
---