News
How to Play
Products
Card List
Organized Play
Where to Buy
Featured Card: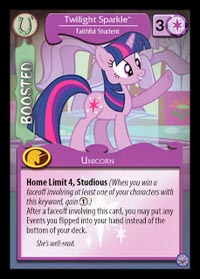 © Enterplay, Hasbro, All Rights Reserved.
Contact email can be found at the
bottom of the 'Where to Buy' page.

Card Translations


Philomena™ Bird of a Feather



Card No.:
207
Rarity:
Ultra-Rare
Color:
Yellow
Points:
0
Type:
Friend
Power:
1
Cost:
2
Requirement:
2
Keywords:
Critter

Card Text
While this card is at a problem, your other Friends at that Problem get the Critter trait during any Score Phase.
Flavor Text
Philomena has been the royal pet of Princess Celestia for so many years. She's learned a trick or two spending so much time in royal company.
---