News
How to Play
Products
Card List
Organized Play
Where to Buy
Featured Card: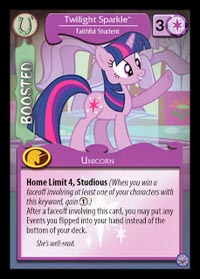 © Enterplay, Hasbro, All Rights Reserved.
Contact email can be found at the
bottom of the 'Where to Buy' page.

Card Translations


Apple Cobbler™ Headstrong



Card No.:
22
Rarity:
Common
Color:
Orange
Points:
0
Type:
Friend
Power:
1
Cost:
1
Requirement:
1
Keywords:
Earth Pony

Card Text
Stubborn (This card can still apply its power during faceoffs and the Score Phase even if exhausted.)
Flavor Text
Pinkie Pie once asked Apple Cobbler if she makes shoes out of fruit. Nopony knows if she was kidding or not.
---