News
How to Play
Products
Card List
Organized Play
Where to Buy
Featured Card: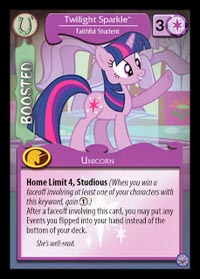 © Enterplay, Hasbro, All Rights Reserved.
Contact email can be found at the
bottom of the 'Where to Buy' page.

Card Translations


Sugar Twist Twister Sister



Card No.:
79
Rarity:
Common
Color:
White
Points:
0
Type:
Friend
Power:
2
Cost:
2
Requirement:
None
Keywords:
Pegasus

Card Text
None
Flavor Text
Sugar Twist earned her cutie mark when she made the largest tornado ever seen on the Ponyville school playground. She also earned two weeks of detention.
---