News
How to Play
Products
Card List
Organized Play
Where to Buy
Featured Card: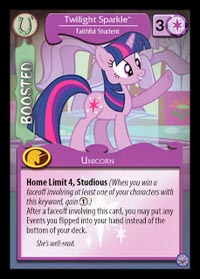 © Enterplay, Hasbro, All Rights Reserved.
Contact email can be found at the
bottom of the 'Where to Buy' page.

Card Translations


Applejack™ Plant Leader



Card No.:
23 (Foil #12)
Rarity:
Common
Color:
Orange
Points:
0
Type:
Friend
Power:
2
Cost:
3
Requirement:
2
Keywords:
Earth Pony

Card Text
Stubborn (This card can still apply its power during faceoffs and the Score Phase even if exhausted.)

When you win a faceoff involving this card, your opponent discards a random card.
Flavor Text
"I know it's hard work, but you guys are doin' great. Yee-haw!"
---