News
How to Play
Products
Card List
Organized Play
Where to Buy
Featured Card: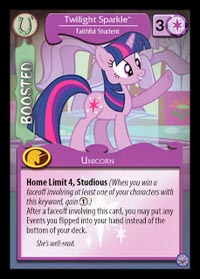 © Enterplay, Hasbro, All Rights Reserved.
Contact email can be found at the
bottom of the 'Where to Buy' page.

Card Translations


Lyra Heartstrings™ Bonafide



Card No.:
201
Rarity:
Ultra-Rare
Color:
Pink
Points:
0
Type:
Friend
Power:
4
Cost:
5
Requirement:
3
Keywords:
Unicorn

Card Text
Reaction: After your opponent draws a card, exhaust this card to draw 2 cards.
Flavor Text
Of all the ponies Twilight Sparkle told about her adventures through the magic mirror, Lyra was by far the most curious.
---