News
How to Play
Products
Card List
Organized Play
Where to Buy
Featured Card: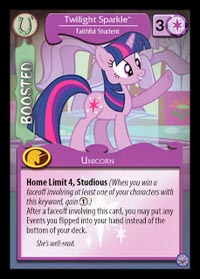 © Enterplay, Hasbro, All Rights Reserved.
Contact email can be found at the
bottom of the 'Where to Buy' page.

Card Translations


Applejack™ Barn Raiser



Card No.:
24 (Foil #13)
Rarity:
Rare
Color:
Orange
Points:
0
Type:
Friend
Power:
2
Cost:
3
Requirement:
2
Keywords:
Earth Pony

Card Text
Main Phase: Exhaust this card to add its power to the power of another (Orange) Friend until the end of the turn.
Flavor Text
Nopony is better qualified to lead the Apple Family in a good ol' fashioned barn raising than Applejack.
---