News
How to Play
Products
Card List
Organized Play
Where to Buy
Featured Card: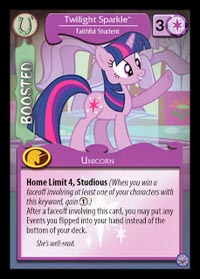 © Enterplay, Hasbro, All Rights Reserved.
Contact email can be found at the
bottom of the 'Where to Buy' page.

Card Translations


Spike™ Baby Dragon



Card No.:
18 (Foil #11)
Rarity:
Rare
Color:
Blue
Points:
0
Type:
Friend
Power:
0
Cost:
2
Requirement:
1
Keywords:
Dragon

Card Text
Swift(You may move this card for 1 fewer action tokens.)

Main Phase: Pay 1 action token to give this card +1 power till the end of the turn.
Flavor Text
Nopony really knows when or how fast spike is going to grow up.Dragons are just too rare and scary too study.
---