News
How to Play
Products
Card List
Organized Play
Where to Buy
Featured Card: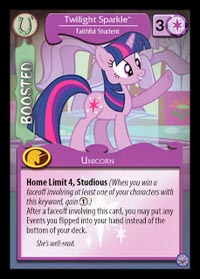 © Enterplay, Hasbro, All Rights Reserved.
Contact email can be found at the
bottom of the 'Where to Buy' page.

Card Translations


The Ponyville Express



Card No.:
147
Rarity:
Uncommon
Color:
White
Points:
0
Type:
Resource
Power:
3
Cost:
1
Requirement:
1
Keywords:
Asset

Card Text
Play to your home.

Reaction: When you defeat a Troublemaker using only White characters, dismiss this card to score an additional point.
Flavor Text
Plenty of town residents have been featured in the Ponyville Express after fending off villians and rampaging beasts.
---