News
How to Play
Products
Card List
Organized Play
Where to Buy
Featured Card: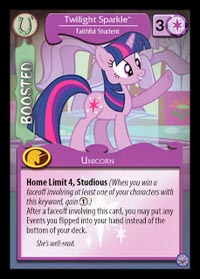 © Enterplay, Hasbro, All Rights Reserved.
Contact email can be found at the
bottom of the 'Where to Buy' page.

Card Translations


Big Mac™ Immense Apple



Card No.:
199
Rarity:
Ultra-Rare
Color:
Orange
Points:
0
Type:
Friend
Power:
4
Cost:
5
Requirement:
2
Keywords:
Earth Pony

Card Text
Stubborn (this card can still apply its power during faceoffs and the Score Phase even if exhausted.)

During faceoffs involving this card, flip an additional card.
Flavor Text
Ironically, he has the largest vocabulary of anypony in the Apple family.
---