News
How to Play
Products
Card List
Organized Play
Where to Buy
Featured Card: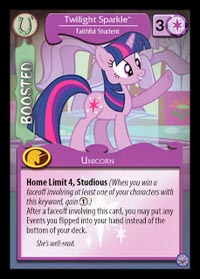 © Enterplay, Hasbro, All Rights Reserved.
Contact email can be found at the
bottom of the 'Where to Buy' page.

Card Translations


Lady Justice Judge & Jury



Card No.:
63
Rarity:
Fixed
Color:
Purple
Points:
0
Type:
Friend
Power:
3
Cost:
4
Requirement:
None
Keywords:
Earth Pony

Card Text
Your opponent's characters at this card's Problem each get -1 power during faceoffs.
Flavor Text
"I know you're all just trying to help, but it's my civic duty to list off the eight Ponyville regulations you broke in the last five minutes."
---