News
How to Play
Products
Card List
Organized Play
Where to Buy
Featured Card: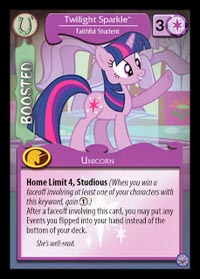 © Enterplay, Hasbro, All Rights Reserved.
Contact email can be found at the
bottom of the 'Where to Buy' page.

Card Translations


This Way, Little Ones



Card No.:
194
Rarity:
Uncommon
Color:
Yellow
Points:
0
Type:
Problem
Power:
0
Confront Req. 1:
3
Req. 1 Color:
Yellow
Confront Req. 2:
2
Req. 2 Color:
NotYellow
Opponent Confront Req.:
6

Card Text
When this Problem is played, its owner may move one of their Critter Friends here from home for free.
Flavor Text
A pony never knows that bully they might bump into while leading ducklings through Ponyville!
---