News
How to Play
Products
Card List
Organized Play
Where to Buy
Featured Card: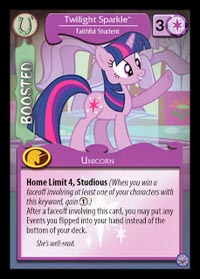 © Enterplay, Hasbro, All Rights Reserved.
Contact email can be found at the
bottom of the 'Where to Buy' page.

Card Translations


Fluttershy™ Animal Team



Card No.:
84 (Foil #28)
Rarity:
Uncommon
Color:
Yellow
Points:
0
Type:
Friend
Power:
2
Cost:
3
Requirement:
2
Keywords:
Pegasus

Card Text
Caretaker (+1 power while at a Problem with at least one of your Critter Friends)

When you play this card, the cost of your next Yellow Friend this turn is reduced by (1).
Flavor Text
"Wake up, little sleepy heads."
---