News
How to Play
Products
Card List
Organized Play
Where to Buy
Featured Card: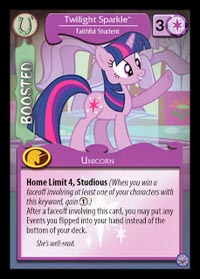 © Enterplay, Hasbro, All Rights Reserved.
Contact email can be found at the
bottom of the 'Where to Buy' page.

Card Translations


Spring Forward Companionable Filly



Card No.:
61
Rarity:
Rare
Color:
Purple
Points:
0
Type:
Friend
Power:
2
Cost:
3
Requirement:
3
Keywords:
Earth Pony

Card Text
Studios(When you win a face off involving at least one of your characters with this keyword, gain 1 action token.)

This card gets +2 power for each of your opponents characters at its problem.
Flavor Text
Even though she's one of the best skaters in Ponyville, Spring Forward just can't wait for the ice to melt.
---