News
How to Play
Products
Card List
Organized Play
Where to Buy
Featured Card: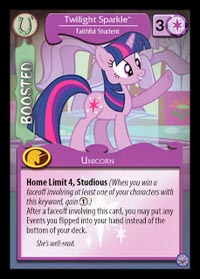 © Enterplay, Hasbro, All Rights Reserved.
Contact email can be found at the
bottom of the 'Where to Buy' page.

Card Translations


Nightmare Moon™



Card No.:
210
Rarity:
Ultra-Rare
Color:
None
Points:
3
Type:
Troublemaker
Power:
7
Cost:
0
Requirement:
None
Keywords:
None

Card Text
Villain

When you uncover this card, all players discard their hands and draw 3 cards. At the start of each player's Troublemaker Phase, that player discards a random card.
Flavor Text
"The night shall last forever!"
---