News
How to Play
Products
Card List
Organized Play
Where to Buy
Featured Card: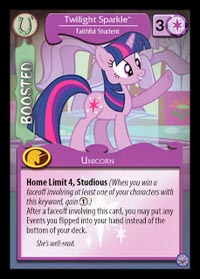 © Enterplay, Hasbro, All Rights Reserved.
Contact email can be found at the
bottom of the 'Where to Buy' page.

Card Translations


Octavia Virtuoso



Card No.:
205
Rarity:
Ultra-Rare
Color:
White
Points:
0
Type:
Friend
Power:
4
Cost:
5
Requirement:
2
Keywords:
Earth Pony

Card Text
Your opponent must pay +2 cost to move a character to or from this card's Problem.
Flavor Text
Octavia has many acquaintances in the musical world, but never expected to meet one of her closest friends performing at a Canterlot night club.
---