News
How to Play
Products
Card List
Organized Play
Where to Buy
Featured Card: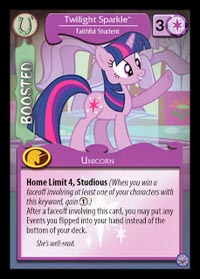 © Enterplay, Hasbro, All Rights Reserved.
Contact email can be found at the
bottom of the 'Where to Buy' page.

Card Translations


Dr, Hooves™ Unblinking



Card No.:
197
Rarity:
Ultra-Rare
Color:
Blue
Points:
0
Type:
Friend
Power:
4
Cost:
5
Requirement:
3
Keywords:
Earth Pony

Card Text
When this card is placed in the discard pile, you may search your deck for a Dr. Hooves Friend. Play it to your home frightened, and shuffle your deck.
Flavor Text
An owl delivered an ancient scroll to Dr. Hooves one fateful morning. The only legible text left on the parchment was XHRPPAXLFSVZB.
---