News
How to Play
Products
Card List
Organized Play
Where to Buy
Featured Card: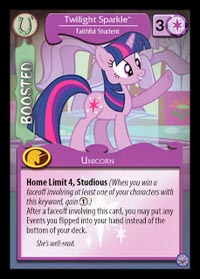 © Enterplay, Hasbro, All Rights Reserved.
Contact email can be found at the
bottom of the 'Where to Buy' page.

Card Translations


Adventures in Foalsitting



Card No.:
169
Rarity:
Common
Color:
Pink
Points:
1
Type:
Problem
Power:
0
Confront Req. 1:
2
Req. 1 Color:
Pink
Confront Req. 2:
1
Req. 2 Color:
NotPink
Opponent Confront Req.:
4

Card Text
Starting Problem. The first player to confront this Problem may look at the top card of this Problem deck and put it on either the top or the bottom of that deck.
Flavor Text
Foalsitting is a lot of responsibility, but somepony's gotta do it!
---