News
How to Play
Products
Card List
Organized Play
Where to Buy
Featured Card: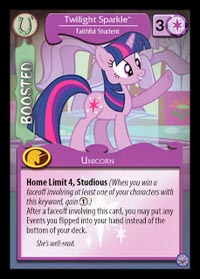 © Enterplay, Hasbro, All Rights Reserved.
Contact email can be found at the
bottom of the 'Where to Buy' page.

Card Translations


Bunny Breakout



Card No.:
164
Rarity:
Uncommon
Color:
Yellow
Points:
1
Type:
Problem
Power:
0
Confront Req. 1:
1
Req. 1 Color:
Yellow
Confront Req. 2:
1
Req. 2 Color:
NotYellow
Opponent Confront Req.:
4

Card Text
Starting Problem.
Flavor Text
Angel is the poster critter for the phrase "quick like a bunny." Nopony (or dragon) will catch him if he doesn't want to be caught.
---