News
How to Play
Products
Card List
Organized Play
Where to Buy
Featured Card: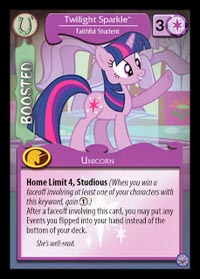 © Enterplay, Hasbro, All Rights Reserved.
Contact email can be found at the
bottom of the 'Where to Buy' page.

Card Translations


Savoir Fare Snooty Server



Card No.:
72
Rarity:
Rare
Color:
White
Points:
0
Type:
Friend
Power:
2
Cost:
2
Requirement:
2
Keywords:
Earth Pony

Card Text
Inspired (At the start of your Main Phase, look at the top card of an opponent's deck and put in on the top or the bottom of that deck.)

When you play this card to a Problem, choose another one of your characters at that Problem. It gets +2 power until the end of the turn.
Flavor Text
After Spike's repeated attempts to order gems, Savoir's restaurant now offers Ruby Tuesdays.
---