News
How to Play
Products
Card List
Organized Play
Where to Buy
Featured Card: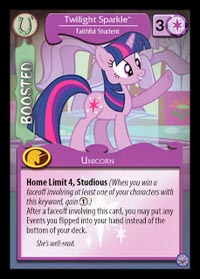 © Enterplay, Hasbro, All Rights Reserved.
Contact email can be found at the
bottom of the 'Where to Buy' page.

Card Translations


Picnic Lunch



Card No.:
146
Rarity:
Rare
Color:
Yellow
Points:
0
Type:
Resource
Power:
3
Cost:
2
Requirement:
2
Keywords:
Asset

Card Text
Play to your home.

While at least 3 of your Yellow Friends are at one Problem, flip an additional card during faceoffs at that Problem.
Flavor Text
When Fluttershy's critter friends want a picnic, she never disappoints. There's plenty of hay juice and marmalade to go around.
---