News
How to Play
Products
Card List
Organized Play
Where to Buy
Featured Card: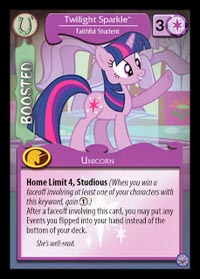 © Enterplay, Hasbro, All Rights Reserved.
Contact email can be found at the
bottom of the 'Where to Buy' page.

Card Translations


Emergency Dress Order



Card No.:
170
Rarity:
Uncommon
Color:
White
Points:
1
Type:
Problem
Power:
0
Confront Req. 1:
1
Req. 1 Color:
White
Confront Req. 2:
1
Req. 2 Color:
NotWhite
Opponent Confront Req.:
4

Card Text
Starting Problem.
Flavor Text
Rarity may have sold the "pičce de résistance de la haute couture" to Sapphire Shores, but creating five more was not part of her sales pitch.
---