News
How to Play
Products
Card List
Organized Play
Where to Buy
Featured Card: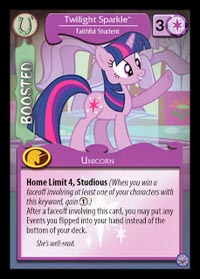 © Enterplay, Hasbro, All Rights Reserved.
Contact email can be found at the
bottom of the 'Where to Buy' page.

Card Translations


Zecora™ Everfree Guru



Card No.:
204
Rarity:
Ultra-Rare
Color:
Purple
Points:
0
Type:
Friend
Power:
1
Cost:
3
Requirement:
3
Keywords:
Zebra

Card Text
Main Phase: Exhaust this card to draw 2 cards, then put a card from your hand on top of your deck.
Flavor Text
"I see that it is wisdom you seek? A glimpse of the future? Let us take a peek!"
---