News
How to Play
Products
Card List
Organized Play
Where to Buy
Featured Card: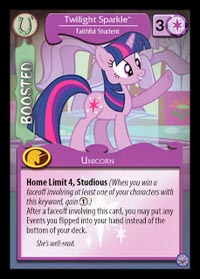 © Enterplay, Hasbro, All Rights Reserved.
Contact email can be found at the
bottom of the 'Where to Buy' page.

Card Translations


Apple Brown Betty Pastry Chef



Card No.:
36
Rarity:
Common
Color:
Pink
Points:
0
Type:
Friend
Power:
3
Cost:
3
Requirement:
None
Keywords:
Earth Pony

Card Text
None
Flavor Text
"You can stick just about any ol' fruit into a crumble and it'll taste fine, but you ain't tried nothin' 'til you tasted my grandma's secret vanilla apple brown betty recipe!"
---