News
How to Play
Products
Card List
Organized Play
Where to Buy
Featured Card: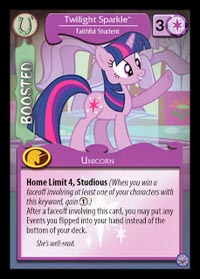 © Enterplay, Hasbro, All Rights Reserved.
Contact email can be found at the
bottom of the 'Where to Buy' page.

Card Translations


Flam™



Card No.:
154
Rarity:
Uncommon
Color:
None
Points:
2
Type:
Troublemaker
Power:
4
Cost:
0
Requirement:
None
Keywords:
None

Card Text
At the start of your opponent's Troublemaker Phase, they exhaust one of their characters at this card's Problem.
Flavor Text
Flam is bad enough on his own, but when the Flim Flam Brothers plot together it spells nothing but trouble for trusting Ponyvillers!
---