News
How to Play
Products
Card List
Organized Play
Where to Buy
Featured Card: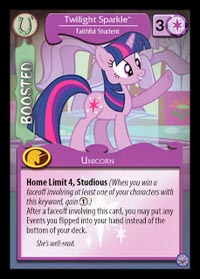 © Enterplay, Hasbro, All Rights Reserved.
Contact email can be found at the
bottom of the 'Where to Buy' page.

Card Translations


Vidala Swoon Mane Manager



Card No.:
70
Rarity:
Fixed
Color:
White
Points:
0
Type:
Friend
Power:
3
Cost:
4
Requirement:
3
Keywords:
Earth Pony

Card Text
Main Phase: Exhaust this card and pay 1 Action Token to search your discard pile for a Friend and put it into your hand.
Flavor Text
When Vidala admitted to her friends how much product she uses on her mane, somepony dubbed her "Hairspray" and the nickname stuck.
---