News
How to Play
Products
Card List
Organized Play
Where to Buy
Featured Card: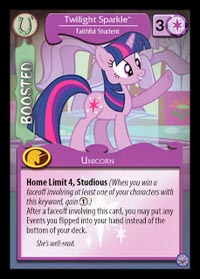 © Enterplay, Hasbro, All Rights Reserved.
Contact email can be found at the
bottom of the 'Where to Buy' page.

Card Translations


Looking for Trouble



Card No.:
178
Rarity:
Common
Color:
Blue
Points:
1
Type:
Problem
Power:
0
Confront Req. 1:
2
Req. 1 Color:
Blue
Confront Req. 2:
2
Req. 2 Color:
NotBlue
Opponent Confront Req.:
4

Card Text
Starting Problem. When a player defeats a Troublemaker at this Problem, that player scores an additional point.
Flavor Text
Runaway carriage? Falling hot air balloon? Evil, grass-munching weeds? When on patrol, a pegasus should keep her eyes peeled.
---