News
How to Play
Products
Card List
Organized Play
Where to Buy
Featured Card: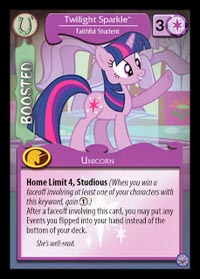 © Enterplay, Hasbro, All Rights Reserved.
Contact email can be found at the
bottom of the 'Where to Buy' page.

Card Translations


Blue Moon Ol' Blue Eyes



Card No.:
60
Rarity:
Common
Color:
Purple
Points:
0
Type:
Friend
Power:
2
Cost:
2
Requirement:
None
Keywords:
Unicorn

Card Text
None
Flavor Text
Canterlot insiders say that Blue Moon and North Star have been dating for months. When asked about their relationship, Blue Moon was quoted as saying, "She makes me feel so young!"
---