News
How to Play
Products
Card List
Organized Play
Where to Buy
Featured Card: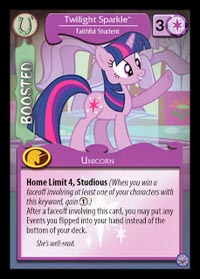 © Enterplay, Hasbro, All Rights Reserved.
Contact email can be found at the
bottom of the 'Where to Buy' page.

Card Translations


Applejack Steadfast Farmpony



Card No.:
2 (Foil #2)
Rarity:
Fixed
Color:
Orange
Points:
0
Type:
Mane
Power:
1 / 3
Cost:
0
Requirement:
None
Keywords:
Earth Pony

Card Text
Home Limit 3
When you confront this card's Problem with more power than required, turn this card over.
-- BOOSTED: --
Home Limit 4, Stubborn (this card can still apply its power during faceoffs and the Score Phase even if exhausted)
When one of your Friends with this card at home or a Problem is dismissed, you may put it on the top of your deck.
Flavor Text
Applejack's not just a hard worker.
-- BOOSTED: --
She's the loyalest of friends and most dependable of ponies.
---