News
How to Play
Products
Card List
Organized Play
Where to Buy
Featured Card: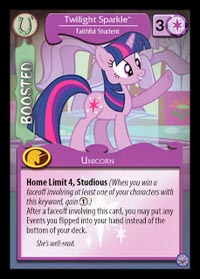 © Enterplay, Hasbro, All Rights Reserved.
Contact email can be found at the
bottom of the 'Where to Buy' page.

Card Translations


Marvelous Chapeau



Card No.:
141
Rarity:
Uncommon
Color:
White
Points:
0
Type:
Resource
Power:
4
Cost:
1
Requirement:
2
Keywords:
Accessory

Card Text
Play on a Friend.

While this Friend is at an opponent's Problem, if you have at least 3 White in play, you need -1 Power to confront that Problem.
Flavor Text
Another creation from Rarity's pręt-ŕ-porter collection, this hat makes a mare feel like she can accomplish anything!
---