News
How to Play
Products
Card List
Organized Play
Where to Buy
Featured Card: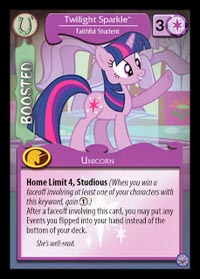 © Enterplay, Hasbro, All Rights Reserved.
Contact email can be found at the
bottom of the 'Where to Buy' page.

Card Translations


Golden Oak Library



Card No.:
138
Rarity:
Rare
Color:
Purple
Points:
0
Type:
Resource
Power:
3
Cost:
2
Requirement:
3
Keywords:
Resource, Location

Card Text
Play to your home.

Main Phase: Exhaust this card and pay 1 cost to reveal the top 3 cards of your deck. You may put 1 revealed Event into your hand and all remaining cards on the top of your deck in any order.
Flavor Text
If Twilight Sparkle knew as a filly that she'd be living in a tree house with her own library, she just might have burst with glee.
---