News
How to Play
Products
Card List
Organized Play
Where to Buy
Featured Card: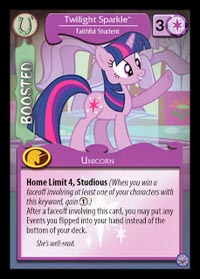 © Enterplay, Hasbro, All Rights Reserved.
Contact email can be found at the
bottom of the 'Where to Buy' page.

Card Translations


Big Top Silly Pony



Card No.:
38
Rarity:
Fixed
Color:
Pink
Points:
0
Type:
Friend
Power:
3
Cost:
4
Requirement:
2
Keywords:
Earth Pony

Card Text
When you win a Problem faceoff involving this card, dismiss an opponent's Friend involved in that faceoff.
Flavor Text
"I am quite serious about my craft. Once the makeup is on, my vocabulary is reduced to but a single phrase: Honk Honk!"
---