News
How to Play
Products
Card List
Organized Play
Where to Buy
Featured Card: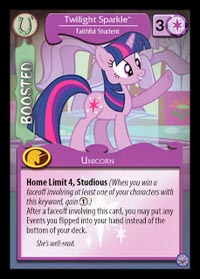 © Enterplay, Hasbro, All Rights Reserved.
Contact email can be found at the
bottom of the 'Where to Buy' page.

Card Translations


Apple Stars™ Fruit Prodigy



Card No.:
51
Rarity:
Rare
Color:
Purple
Points:
0
Type:
Friend
Power:
3
Cost:
4
Requirement:
2
Keywords:
Unicorn

Card Text
Studious (When you win a faceoff involving at least one of your characters with this keyword, gain (1).)
Flavor Text
When somepony beats Granny Smith at an apple trivia contest, she MUST mean serious business.
---