News
How to Play
Products
Card List
Organized Play
Where to Buy
Featured Card: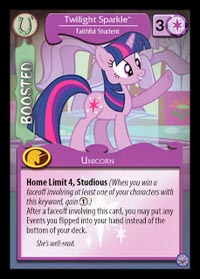 © Enterplay, Hasbro, All Rights Reserved.
Contact email can be found at the
bottom of the 'Where to Buy' page.

Card Translations


Carousel Boutique



Card No.:
132
Rarity:
Rare
Color:
White
Points:
0
Type:
Resource
Power:
5
Cost:
2
Requirement:
2
Keywords:
Location

Card Text
Play to your home.

Main Phase: Dismiss this card to search your discard pile for a card and put it into your hand.
Flavor Text
Rarity's showroom and home, a place where even an old idea can spring forth into a beautiful new design.
---