News
How to Play
Products
Card List
Organized Play
Where to Buy
Featured Card: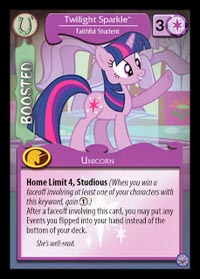 © Enterplay, Hasbro, All Rights Reserved.
Contact email can be found at the
bottom of the 'Where to Buy' page.

Card Translations


Wild Fire Speed Racer



Card No.:
10 (Foil #8)
Rarity:
Rare
Color:
Blue
Points:
0
Type:
Friend
Power:
2
Cost:
2
Requirement:
2
Keywords:
Pegasus

Card Text
When you move this card to a Problem, you may move another one of your characters to the same Problem for free.
Flavor Text
Wild Fire is mostly known for her hot temper and high speeds, but her closest friends know that she's also a very talented artist.
---