News
How to Play
Products
Card List
Organized Play
Where to Buy
Featured Card: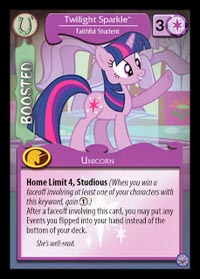 © Enterplay, Hasbro, All Rights Reserved.
Contact email can be found at the
bottom of the 'Where to Buy' page.

Card Translations


Solar Wind Enterprising Astronomer



Card No.:
19
Rarity:
Rare
Color:
Blue
Points:
0
Type:
Friend
Power:
1
Cost:
1
Requirement:
1
Keywords:
Pegasus

Card Text
When you play a (Pegasus) Friend to this card's Problem, you may exhaust this card. If you do, gain (1).
Flavor Text
"It's kinda embarrassing how many constellations I can name..."
---