News
How to Play
Products
Card List
Organized Play
Where to Buy
Featured Card: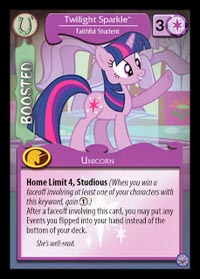 © Enterplay, Hasbro, All Rights Reserved.
Contact email can be found at the
bottom of the 'Where to Buy' page.

Card Translations


Sunny Rays™ One Bright Mare



Card No.:
62
Rarity:
Rare
Color:
Purple
Points:
0
Type:
Friend
Power:
2
Cost:
2
Requirement:
2
Keywords:
Pegasus

Card Text
When you play this card, look at the top 2 cards of your deck, and put them back in any order.
Flavor Text
"Did you know there are over 150 ways to use clouds to solve common household problems?"
---