News
How to Play
Products
Card List
Organized Play
Where to Buy
Featured Card: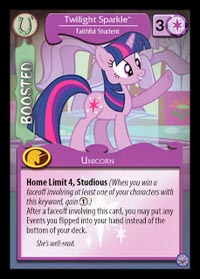 © Enterplay, Hasbro, All Rights Reserved.
Contact email can be found at the
bottom of the 'Where to Buy' page.

Card Translations


Featherweight™ Editor-in-Chief



Card No.:
67 (Foil #25)
Rarity:
Rare
Color:
White
Points:
0
Type:
Friend
Power:
2
Cost:
3
Requirement:
None
Keywords:
Pegasus, Foal

Card Text
During Problem faceoffs involving this card, your opponent flips an additional card but ignores one of the flipped cards with the highest power.
Flavor Text
Extra! Extra! Read all about it! Featherweight promoted to editor of the Foal Free Press!
---